Action replay technology to be rolled out for Market Abuse Directive (MAR)
However, human judgment is still key if the game is to be fair for all players
Laurent Collet - Sponsoring partner - Strategy & Regulatory Consulting - Deloitte
Natacha Dats - Senior Manager - Strategy & Regulatory Consulting - Deloitte
Giulio Maria Ambrosi - Analyst - Strategy & Regulatory Consulting - Deloitte
Camilla Georgeon - Analyst - Strategy & Regulatory Consulting - Deloitte
Published on 19 March 2019
From the Television Match Official (TMO) in rugby, to the Video Assistant Referee (VAR) in soccer, and Hawk-Eye in tennis, technology is playing an ever-growing role in sports. VAR analysis led to France being awarded a free kick during the final of the FIFA 2018 World Cup when referee Pitana reviewed Ivan Perisic's handling of the ball in his own penalty area. Similarly, a Hawk-Eye call reversed a controversial point awarded to Nadal in Wimbledon 2011.
Technology provides referees and officials with the additional information required in cases where there is scope for doubt. Perhaps this is what the European Securities and Markets Authority (ESMA) was thinking of when it referred to a "slow motion replay tool" for the purpose of detecting potential market abuse.[1]
However, when it comes to market abuse surveillance, just as in the sports world, human experience is still key if the game is to be fair for all players.
[1] Final Report. Draft technical standards on the Market Abuse Regulation (ESMA)
The Market Abuse Regulation (MAR) and the Directive on Criminal Sanctions for Market Abuse (CSMAD) constitute MAD II and replaced the 2003 Market Abuse Directive. Applicable since 3 July 2016, the new regime significantly extends the scope of the directive and establishes a common regulatory framework and preventive measures regarding insider dealing, unlawful disclosure of information, and market manipulation.
MAR is structured around three main themes
1st THEME
Market manipulation
Entering into a transaction, placing an order to trade or any other behavior which gives, or is likely to give, false or misleading signals as to the supply of, demand for, or price of, a financial instrument that falls within the scope of MAR
Entering into a transaction, placing an order to trade or any other activity or behavior which affects or is likely to affect the price of one or several financial instruments or which employs a fictitious device or any other form of deception or contrivance
Disseminating information through the media, including the internet, or by any other means, which gives, or is likely to give, false or misleading signals as to the supply of, demand for, or price of, a financial instrument
Transmitting false or misleading information in relation to a benchmark
3rd THEME
Suspicious Transaction & Order Reporting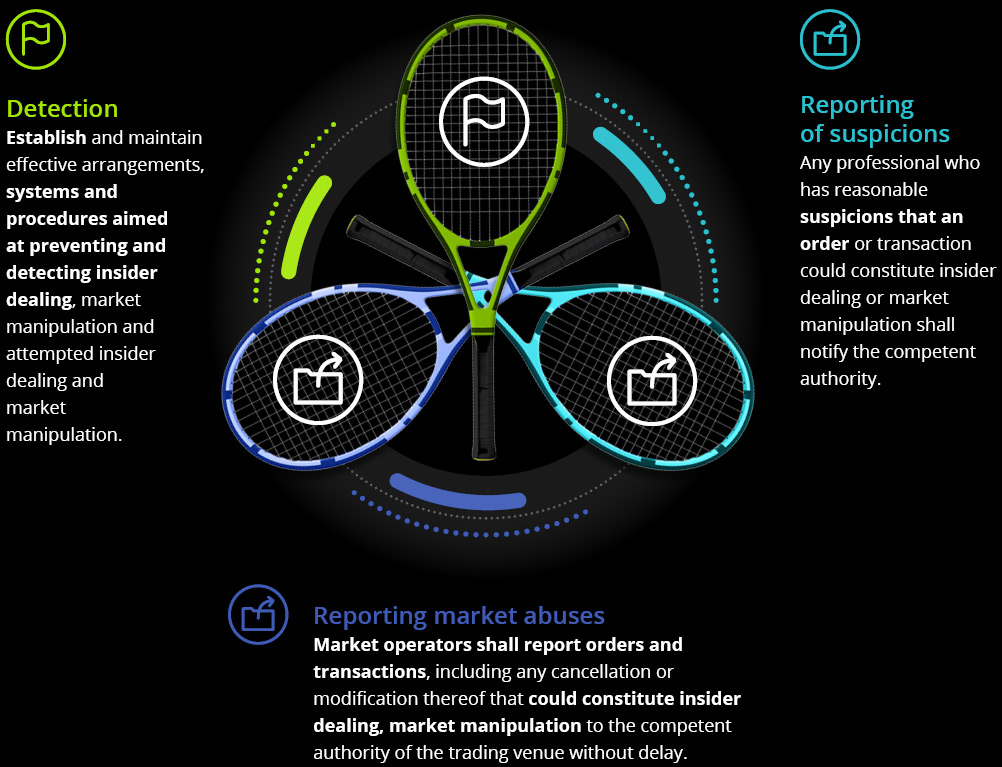 Focus on: Suspicious Transaction & Order Reporting
Prevention, monitoring, and detection
Financial market evolution and technological developments are enabling new forms of market manipulation. For this reason, the market regulator is turning to technology and automation as key resources that will help it to identify and address these instances.
ESMA is of the view that, in the vast majority of cases, financial institutions will need to establish automated surveillance systems in order to be able to i) analyze every transaction (individually and comparatively), ii) produce alerts triggering further analysis, and iii) report suspicious transactions. Human intervention is nevertheless fundamental at each phase of the implementation and ongoing monitoring processes.
Financial institutions have to design controls that are appropriate and proportional in relation to the scale, size, and nature of their business activities. They must also define a holistic approach to surveillance that encompasses trade monitoring and electronic communications (e.g., emails, trading platform messaging and chats, etc.).
The first step is to develop or choose one of the numerous systems available on the market.
The information gathered, in addition to the data collected through other regulations (e.g., MiFID and EMIR) and potentially third-party providers, allows for the creation of comprehensive databases that can be used to identify suspicious market behaviors. These databases could be leveraged for data mining and to fine-tune machine learning to create advanced market abuse detection systems.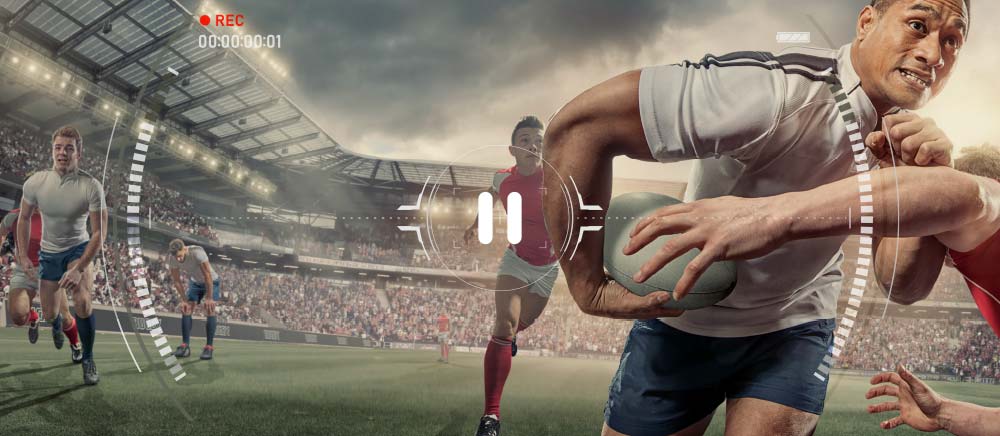 Furthermore, financial institutions will need to decide on the rules the selected system should follow to detect patterns and inconsistencies and raise red flags through proactive and reactive analysis. Orders should be managed ex ante and ex post via an analysis of the following factors:
Volume
Frequency
Clients
Blackout periods
Holding periods
Pre-clearing requirements
Patterns and outliers of trading activity
Specific high-risk events or windows
This is all the more important because financial institutions are expected to be able to justify their decisions in terms of selecting transactions and variables for analysis to the market authority. The stricter the rules set in the monitoring system, the smaller the number of transactions flagged for analysis will be. Financial institutions will thus need to find the right balance between completeness and pertinence as they seek to manage the detection on one side and the outcome on the other.
Once the system flags suspicious transactions and orders, a dedicated team has to analyze them. Skilled human intervention is required to exclude false positives and to follow up on valid concerns, including sending STORs. Dedicated professionals will receive comprehensive training to ensure effective prevention, monitoring, detection, and identification of orders and transactions that could constitute insider dealing or market manipulation.
Under MAR, financial institutions are thus expected to:
Adopt policies and procedures to cover the entire lifecycle of transactions, as well as the post-transaction stage
Establish clear and adequate rules that define and calibrate STOR systems
Test STOR systems and reshape them if needed
Appoint a dedicated and properly trained team to review post-trade surveillance reports

One regulation
Several non-compliance risks 1
---
Entity
Employee at a German investment bank
Regulator
BaFin, Germany
Rationale
Scalping without disclosure of own shareholding
---
A former member of the management board of an investment bank in Germany, which has since been wound up, has been sentenced to three years and three months behind bars. The individual had violated the ban on market manipulation by using scalping without disclosing his own shareholding in the shares of three companies he recommended.

One regulation
Several non-compliance risks 2
---
Entity
Large US-based electronic brokerage firm
Regulator
FCA, UK
Rationale
Weak controls
---
The FCA has fined a large US-based electronic brokerage firm £1,049,412 for poor market abuse controls and a failure to report suspicious client transactions. The firm failed to properly design and calibrate its post-trade monitoring systems and to test their effectiveness to ensure that potential market abuse by its clients would be captured.
Conclusion
Will an automated referee take over from a human one? As in sports, where action replay and other technologies have been in place for a while, this seems unlikely.
Skilled human intervention is required at each step of the Market Abuse Regulation implementation process. From designing a market abuse detection system to implementing it, and from calibrating it to reviewing and analyzing the suspicious transactions flagged by the system, sound judgment calls by human beings with the right skills, competence and training will still be essential.


Kaleidoscope
Regulatory watch solution
Business environment turbulence, new risk exposures, demands for greater corporate governance, combined with an unprecedented rhythm of regulatory developments, require financial institutions to relentlessly look for new ways to carry out operations and manage risks.
© 2021. See Terms of Use for more information. Deloitte refers to one or more of Deloitte Touche Tohmatsu Limited, a UK private company limited by guarantee ("DTTL"), its network of member firms, and their related entities. DTTL and each of its member firms are legally separate and independent entities. DTTL (also referred to as "Deloitte Global") does not provide services to clients. Please see www.deloitte.com/about to learn more about our global network of member firms. The Luxembourg member firm of Deloitte Touche Tohmatsu Limited Privacy Statement notice may be found at www.deloitte.com/lu/privacy.