While technology teams are often encouraged to "go agile", organizations are still reluctant to adopt the foundational changes that are required for a successful agile transformation.
Jean-Pierre Maissin - [Sponsoring] Partner - Technology & Architecture - Deloitte
Joachim Sammer - Manager - Technology & Architecture - Deloitte
Published on 12 November 2019
While technology teams are often encouraged to "go agile", organizations are still reluctant to adopt the foundational changes that are required for a successful agile transformation.
Organizations designed most of their processes in the pre-digital era—but now these processes impede rather than assist in accelerated delivery of value. Once an organization decides to scale agile beyond its teams, the transformation needs to include enterprise level processes like portfolio management, procurement, and architectural governance. Leaders have to relentlessly reassess anything that prevents an effective linking of strategy to its execution.
Who has not experienced the surprise when a critical project's traffic light changes to red as the delivery date closes in? Despite a common lack of delivery predictability, many organizations continue to accept the limitations of traditional waterfall processes. In an attempt to keep project portfolios on time and on budget, each organizational layer sandbags their estimates. This in turn increases project costs, as systems are optimized for reporting purposes, but not for outcomes.
Would leaders not prefer to have full transparency in the execution of their strategies and therefore ensure outcomes have value-add for customers?
HOW CAN ORGANIZATIONS SCALE AGILE TO THE ENTERPRISE?
DISRUPTION IS A CERTAINTY
Executives want to ensure their organizations can deal with any disruption that comes their way. It is no longer a question of if your market will be disrupted, but when. Organizations now realize digital transformation cannot be a one-off, but requires continuous exploration and readiness to change in order to stay competitive. Hence, organizations need to adopt a lean-agile mindset fed by the sense of urgency that John P. Kotter highlighted as a critical factor for a successful transformation.
To achieve this, leaders have to challenge the status quo. 'We have always done it this way,' is not good enough anymore and the sense of urgency has to extend to all areas of an organization.
Team level agile works well for shorter projects with little dependencies on other elements in the organization. However, if you have larger technology initiatives that have to be delivered jointly by multiple teams across organizational siloes, it does not. In addition, a lot of time and money is wasted on the traditional planning and budgeting processes that are still retained on top of new agile structures.
SAFe (Scaled Agile Framework) replaces these traditional planning processes with a lean-agile model that scales from projects, to programs and enterprise portfolio management. Strategic themes translate to the funding of value streams—long-lived programs to execute your strategy—where each value streams' leadership makes decentralized and timely decisions within defined guardrails. These could be investment horizons, capacity allocations, approval of significant initiatives through lean portfolio management, and continuous business owner engagement. Visual management tools like backlogs and Kanban boards make the status of work visible, while
end-of-iteration demos showcase all completed features to the stakeholders.
Transforming your organization's project funding process is one of the most impactful elements on your journey to becoming a lean-agile enterprise. It will remove the lengthy queues that annual or semi-annual planning processes create, immediately improving your organization's responsiveness to emerging business needs, while increasing its efficiency.
Another critical element is technical agility. Legacy technology landscapes with inherent technical and architectural debts will nullify any boost provided by agile transformation. Organizations will have to sufficiently invest to prevent their new systems becoming the legacy systems of next year, by fostering loosely coupled architectures and DevOps best practices. Taking shortcuts may lead to poorly architected systems that are expensive to maintain and can become a roadblock in the future.
C FOR CHANGE
01 Become a coach
The C-level team has to lead the change effort and act as chief coaches to anchor and sustain the principles of lean-agile leadership in an organization. Breaking with management folklore is not easy and requires a change to the way we work and how we manage. Research has conclusively shown that purpose, autonomy, and mastery motivate knowledge workers more than financial bonuses. To benefit from this and other findings, organizations have to create lean-agile leaders at all layers. One of the necessary changes is to decentralize decision-making powers for local and non-strategic decisions and to trust employees to do the right thing within agreed guardrails.
02 Take a holistic view
Technology has to work with product, portfolio management, and data governance, as well as risk and compliance—among others—to make an agile transformation successful. Having T-shaped change agents, who can facilitate collaboration across organizational siloes, significantly increases the chances of success.
Improving one part of a process may not lead to an overall improvement. For example, automating deployment will not meaningfully speed up end-to-end delivery times, if technology teams have not also adopted continuous integration and test automation. DevOps is most useful when it extends lean-agile product management and development practices—without them, it just automates and accelerates the deployment of potentially low value and low quality deliverables.
03 Start small but extend quickly
Start with a minimal viable product (MVP) by selecting a value stream in your organization and empower them to make all required changes. Ensure that everyone is trained in the value stream and assign coaches to guide your teams during their transformation journey. SAFe, the most widely used agile at scale framework, provides a role-based training curriculum as well as an implementation roadmap that incorporates the lessons learned of past transformations across a range of industries including aerospace, financial services, telecom, and the public sector.
Once you have a success story, launch the transformation of the next value stream without losing organizational momentum. Waterfall projects will coexist with value streams during a transition period and SAFe provides patterns on how to deal with this.
04 Inspect and adapt
Productivity of newly formed cross-functional teams will not improve from the start. Teams will have to learn how to become high performing—where trust and healthy conflict are two key elements. Coaches are essential in helping teams during this critical stage in the transformation.
Leaders have to establish a safe environment for open conversations and encourage the holding of iteration retrospectives, so teams regularly review their progress and can change their approach when and where required.
HOW MUCH AGILE IS ENOUGH?
Every organization has different requirements and priorities depending on their agile maturity and industry segment. In addition to its enterprise material, SAFe offers an extensive online knowledgebase and customizable course material for public sector organizations to account for their context. This can be used to adapt training and implementation to the specific needs of EU or national institutions.
Starting this transformation is the beginning of a continuous improvement journey. Leaders can help by keeping the focus on what matters most—value delivery, quality, and agility—leaving increased efficiency in their wake.
Conclusion
Adopting agile at scale provides true transparency and increased predictability by linking strategy to execution. Visualizing tools like the Kanban system are used to make backlogs, work in progress, and work completed visible from the portfolio to the team layer.
Replacing traditional project funding with lean portfolio management will give your organization the planning agility necessary in the digital era.
Fostering lean-agile leadership behaviors throughout your organization will increase employee engagement and put the focus on outcomes and built-in quality, ensuring that your organization delivers optimum value for your customers.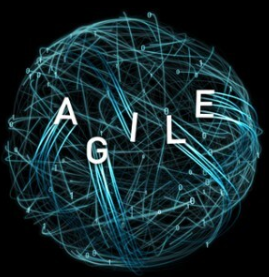 When Agile teams are not enough
The Scaled Agile framework SAFe combines Agile, Lean and DevOps into a set of principles, tangible practices and competencies, giving organisations a powerful and customisable toolkit for their transformation.
© 2021. See Terms of Use for more information. Deloitte refers to one or more of Deloitte Touche Tohmatsu Limited, a UK private company limited by guarantee ("DTTL"), its network of member firms, and their related entities. DTTL and each of its member firms are legally separate and independent entities. DTTL (also referred to as "Deloitte Global") does not provide services to clients. Please see www.deloitte.com/about to learn more about our global network of member firms. The Luxembourg member firm of Deloitte Touche Tohmatsu Limited Privacy Statement notice may be found at www.deloitte.com/lu/privacy.