The future of banking operations
Today, banks operate in an "unpredictable" environment, driven by evolving demands from customers, macro factors, such as talent shortage, new competition or margin pressure, and emerging technologies. Customers are becoming more powerful; they have more information, more choices, more influence.
Pascal Martino - [Sponsoring] Partner - Strategy Regulatory & Corporate Finance - Deloitte
Bernard Lecaillon - Director - Operations Excellence & Human Capital - Deloitte
Published on 17 December 2019
Technology innovation is changing the way clients interact with banks, creating a stronger appetite for FinTech (33 percent of European consumers used FinTech services in 2018). It leads banking organizations to new paradigms, as technology innovation is reducing entry barriers, letting new competitors emerge, and forcing banks to rethink themselves. To realize this vision, operations leaders need to transform operations into a powerful enabler. Five elements drive the transformation of operations: automation, future of work, ecosystem changes, performance management, and operating model evolution.

The definition of "work" is being updated to include enhanced customer experience through end-to-end evaluation and re-engineering of processes. The objective is to eliminate manual work, compress process cycles, and provide transparency based on structured data, automated workflows, and improved quality. In an holistic approach, various technological innovations have to be considered. Beyond solutions like robotics, more complex technologies are emerging to further step up the scale of automation. A new mindset is needed, moving from the single technology implementation, to the E2E process automation based on data.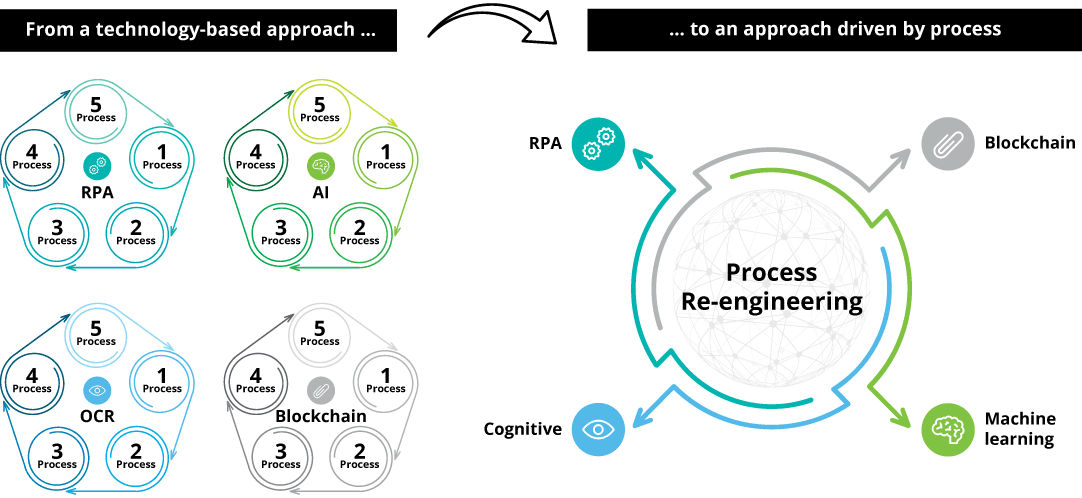 To support the deep transformation of operations and reach a satisfying level of automation, there is no other choice for banks than to consider a combination of process re-engineering and cognitive technologies (intelligent automation and cognitive analytics). New operational flows are deemed to be efficient, lean, and automated thanks to a combination of robotics with optical character recognition, machine learning, natural language processing, etc. The objective is to assist humans in their decision-making process.
Future of work
Following the deployment of new technologies, operations leaders will need to manage talent as a collective set of employees and machine-enabled solutions. Augmented workforces focused on eliminating manual work will change the nature of work for the human labor force to become focused on exception management, supervision and control, subject matter expertise, and change management. Human workforces will be composed of process SMEs, bot engineers, operators, and data scientists. Leadership must formulate a coherent strategy and plan that anticipates the changing professional world to remain attractive to future talent. The challenge is to not only tackle questions such as how work is performed, how business is organized, and how people experience work, but also how the financial institutions are designing their own organizational models. The more flexible bank of the future has to leverage key success features such as a "network of teams" and an "agile way of working" to improve performance thanks to cross-functional skills combination.
Ecosystem changes
Facing wide diversity in the new banking ecosystem of bank and non-bank players, operations need to change its paradigm: they need to be able to play an active role in this new environment by maintaining high quality and speed level in execution while exploiting new opportunities. Operations leaders face the challenge of evolving the role of operations from a pure Cost Center, to a Center of Excellence. As a consequence of open banking, banks are deemed to work in partnership (with peers and with service providers) and define the best collaborative model to deploy. Additionally developing a dynamic tasks execution and efficient workload management is part of the key steps of the new model implementation. Finally, facing the increasing complexity this ecosystem generates, leaders need to introduce new technologies to monitor operations delivered by the workforce, robots and external providers
Performance management
Customer satisfaction is rising to become one of the top priorities for operations. Two main elements have to be considered to support performance management. First an operations workbench: an integrated solution for operations members to access all activities and applications and get their work items queue through a customized work manager widget. It will enable effective orchestration of end-to-end process flows, leading to increased efficiency and improved risk controls. Second, the command center, structured around accurate performance indicators and monitoring dashboards, will enable cross-functional oversight of end-to-end processes and enable holistic performance, capacity and risk management. Quality in service, continuous improvement, and real time support from management are therefore easier and will contribute to enhanced customer satisfaction.
Operating model evolution
Operations have historically focused on being cheaper and faster. Today, the new banking ecosystem is evolving operations into a Center of Excellence. Leading organizations are adopting a new model to drive wider coverage and move further up the value curve. Operations have to become a "strategic partner" and provide better and newer services. The objective is to protect and maximize the margin. Key axes of work are: cost arbitrage to deliver cheaper, increased penetration to execute more the same activities, cover more functional areas and, finally, expand the range of business units.
To implement a new operating model, key decisions for operations leaders depend on their vision for eachcustomer journey. When, for some, they go for a strategy of differentiation and bet on the digital evolution, for others they restructure or empower internal capabilities and position them as centers of excellence. Alternatively, for the last ones, they may prefer going for outsourcing solution to benefit rapidly from existing expertise and transform fixed costs into fully variable costs.
Banks' client journey as a key differentiator
As previously described, operations are back in a more strategic position as client experience is a key pillar of banks' strategy. Each main client journey (e.g. onboarding, payments, credits, etc.), is impacting the whole spectrum of a typical bank's structure, from distribution to production up to supporting activities. Every client journey sits on a pyramid of key building elements which are facing technical, organizational, and process related transformations. As an example, transforming the onboarding journey would require adopting a combination of solutions such as process restructuring and new technologies (automation, web applications, etc.). The impacts are onboarding time reduction, quality enhancement, and manual input decrease. Similar reflection is applicable to each customer journey.
Conclusion
In conclusion, the current context is providing operations leaders with an unprecedented opportunity to lead (digital) transformation journey and create business value for their organizations. As a future state vision, operations capabilities have to be considered as a powerful enabler for banks' organization. Operations of the future will be a more strategically focused, technologically modern, and operationally agile function able to effectively meet internal and external demands. Considering the five transformation drivers (automation, future of work, ecosystem changes, performance management and operating models evolution), the challenge for the operations leaders is to undertake the best transformation to enhance the customer satisfaction while thinking about how its organization will profit from tangible cost, efficiency, quality, and scalability benefits. Challenges remain, levers to achieve them are different.

Banking & Capital Markets
Deloitte brings together professionals with diverse experience to provide customized solutions for clients across all segments of the banking and capital markets industries. We serve our clients locally, while drawing upon the firm's considerable global resources and industry expertise.
© 2021. See Terms of Use for more information. Deloitte refers to one or more of Deloitte Touche Tohmatsu Limited, a UK private company limited by guarantee ("DTTL"), its network of member firms, and their related entities. DTTL and each of its member firms are legally separate and independent entities. DTTL (also referred to as "Deloitte Global") does not provide services to clients. Please see www.deloitte.com/about to learn more about our global network of member firms. The Luxembourg member firm of Deloitte Touche Tohmatsu Limited Privacy Statement notice may be found at www.deloitte.com/lu/privacy.