Hybrid cloud
A guide to a new approach
Hybrid cloud has reinvented itself in recent years and now looks set to become the new normal. Cloud management is the magic ingredient that makes this possible, and the tooling is finally catching up.
Jesper Nielsen - Director - Technology & Enterprise Application - Deloitte
Benjamin Cler - Manager - Technology Strategy & Architecture - Deloitte
Published on 16 July 2019
Just a few years ago, the cloud had a clear definition and those in the industry all had a grasp on the topic. However, those days are gone as the term has been evolving and morphing into new and exciting services, with everyone now heading towards the concept of the multi-cloud. The term hybrid cloud actually fits perfectly within a multi-cloud model.
Depending on the source, the numbers change a bit, but the intention is clear. Multi-cloud and hybrid cloud set-ups are the new normal with around two-thirds of enterprises expected to include these within their frameworks by the end of 2019.
There are many players in this space already, and some of the industry's big names are investing large sums into hybrid cloud. Their offerings are focused on enhancement and build-out, such as:
Red Hat, in the process of being bought by IBM, has acquired a start-up that specializes in managing storage across multi-cloud environments (NooBaa)
Amazon Web Services (AWS) launched a raft of hybrid storage services, as well as a service that allows customers to run AWS cloud in their own data center (AWS Outposts)
VMware multiplies announcement of new products which are building integration points with Public Cloud providers: VMware Cloud on AWS, IBM Cloud for VMware Solutions, GCP plug-in for VMware vRealize
Google has made its hybrid and multi-cloud platform, Anthos, generally available
Developments such as these highlight the trend of trying to strike a balance between the modern (public) cloud and the on-premises (cloud) model. Let's get started and dig into hybrid cloud and unravel the mystery surrounding this change in the world of cloud computing.
Hybrid cloud – what does it actually mean today?
When considering hybrid cloud, it is best thought of as 'a mix of public and private cloud deployments operating in separate entities, even at the edge of the network, but with an overall capacity to be managed as one cloud'. The magic ingredient here is to merge the cloud management into one component, ensuring seamless operational capacity.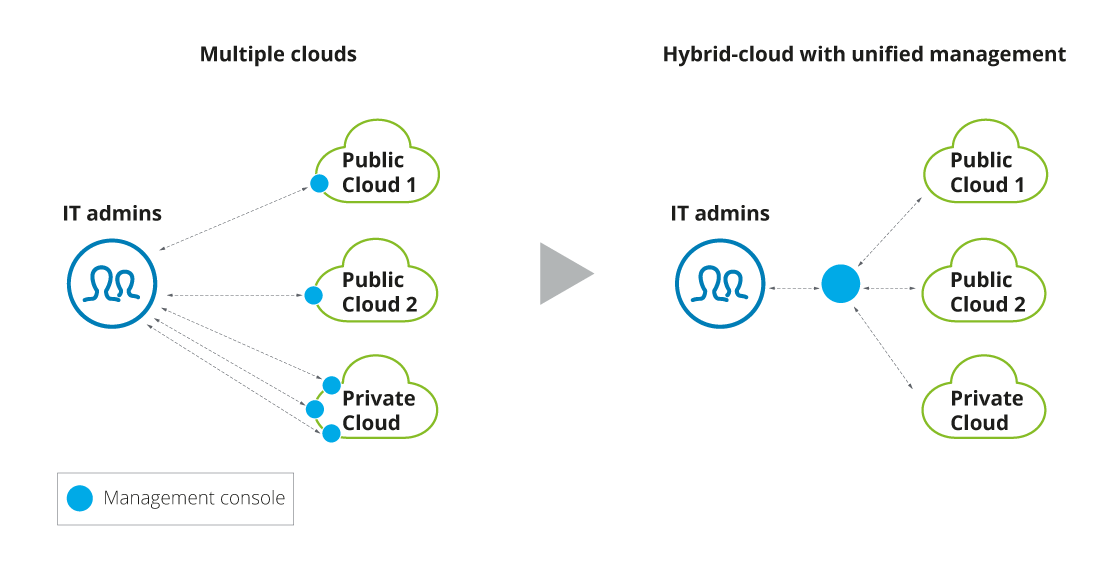 While this sounds simple, it is far from that. Once you dig into the technical aspects, and consider the relatively young business of cloud, it gets a lot more complicated.
What does it take to implement hybrid cloud?
Building an actual hybrid cloud can be conducted in a variety of ways. We have selected two recent offerings illustrating how it can be done, AWS Outposts and Commvault (product suite) respectively.
AWS Outposts.
AWS Outposts bring the AWS Cloud into customers' data centers, on-premises facilities, or remote locations. They provide the same AWS services that customers already use in the cloud, but running locally. AWS Outposts come in two variants:
Native AWS: Accessed through the same APIs and client SDKs used for cloud services, it provides EC2 and EBS services, and will be later complemented with database (RDS), container (ECS, EKS), or AI (SageMaker) services
VMware Cloud on AWS: Accessed and managed via VMware vCenter Server technology, it lets customers leverage on their existing skills and tools
AWS Outposts are fully supported and managed by AWS, and they are updated and patched regularly. Their modular design provides fast replacement of failing parts during maintenance, and easy upgrade of hardware following customer's needs.
They are composed of standard 42U racks, filled with the AWS-built hardware based on an AWS Nitro system.
A top of rack switch allows connection to the local network. Outposts need to be constantly connected to the AWS region they belong to via VPN or AWS Direct Connect.
Commvault.
Commvault offers solutions to seamlessly move, back-up, or restore any kind of data from and to on-premises infrastructure, as well as directly in public clouds. It supports complex scenarios like backing-up a local VMware virtual machine in Microsoft Azure Blob Storage, and then restoring it in AWS as a converted EC2 for instance.
Commwault's solution can be installed on-prem or consumed in a software-as-a-service mode. It comes with a wide range of connectors to allow simple cloud restore/back-up. Some of these are:
Databases: Alibaba RDS, AWS RDS, Google Cloud Database, etc…
Storage: Amazon S3, Azure Blob Storage, Oracle Cloud Storage Service
Compute: Amazon EC2, Azure and Azure Stack VMs, Google Cloud Platform instances, etc…
And more: Salesforce, Google Mail, etc…
Both offerings bring consolidated management and support, but develop the flexibility and selection of choice to a greater extent, without increasing the burden of management and control/governance.
What are the benefits and potential pitfalls from hybrid cloud solutions?
Flexibility
The biggest benefit from hybrid cloud is the flexibility you get from using multiple providers and technology as well as the scalability this provides. The combination of private and public cloud solutions provides for a very scalable solution, which can be used for scaling out of the private cloud option. Hybrid cloud therefore assists in mitigating the possibility of cloud bursting, where cloud storage demands exceed the capacity of private cloud.
As a hybrid cloud solution is scalable, it is possible to deploy, grow or shrink the solution as deemed necessary in each case, as well as using uniform management interfaces. Such capability can be very beneficial for peak times throughout the month or quarter or year, or indeed, when it is possible to take advantage of cheaper temporary public cloud resources. Typically, this can be done for workloads that are not time dependent and can run at flexible times.
Cost
Another potential benefit is the cost saving aspect, although this depends on how the cloud solutions are configured and architected, as well as the overall scale of the solution. With hybrid cloud solutions you are in control of what resources you consume and hence what you will be invoiced for.
However, hybrid cloud is not a one-tool-fits-all magic wand, and in some situations, it is likely that other solutions may be a better match. Cost for instance, might not always be optimized when selecting a hybrid cloud solution.
Complexity
The most significant downside, however, is the complexity involved in setting up an efficient hybrid cloud. Without a proper way to interconnect the cloud environments, you're simply juggling multiple clouds, and that results in a less effective multi-cloud approach, rather than a true hybrid cloud.
Technical skills
Another negative area may be the lack of technical skills, which might not be in-house for some organizations, and therefore makes a public cloud approach more appropriate.
Security and data protection
Hybrid cloud solutions can increase security by letting you choose where workloads and data are performed or stored. They also allow for a private cloud to remain behind customized security architecture and only scale-out to public cloud when needed, limiting data exposure. However, hybrid cloud can create a larger attack surface and data traversing cloud networks can be susceptible to the same security risks as public clouds.
Latency
A more technical point, but critically important, is the consideration of latency. Many applications are still latency sensitive and if data is being transmitted between different parts of a hybrid, it could lead to poor performance and the perception that the UX is bad.
Conclusion
Hybrid cloud can be a strong solution that combines the best parts of multiple cloud deployments to fit an ever changing and complex IT environment. It also allows for leveraging the public cloud when the need arises, but without having to expose your data on the public cloud (except when you want to). It also provides a potential path to IT modernization for those organizations looking to start with cloud migration, while limiting data exposure and remaining compliant with certain privacy and security requirements.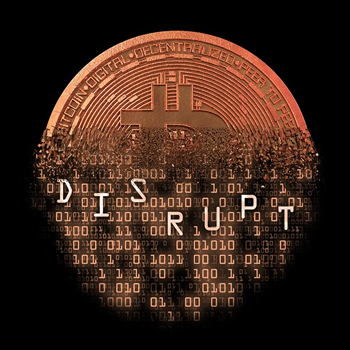 Technology Strategy & Architecture
For most businesses today, technology is central to enabling strategy and execution excellence. Deloitte's Technology Strategy & Architecture (TS&A) practice advises CIO's and other CxO's in developing and executing technology strategies that drive exceptional business value.
© 2021. See Terms of Use for more information. Deloitte refers to one or more of Deloitte Touche Tohmatsu Limited, a UK private company limited by guarantee ("DTTL"), its network of member firms, and their related entities. DTTL and each of its member firms are legally separate and independent entities. DTTL (also referred to as "Deloitte Global") does not provide services to clients. Please see www.deloitte.com/about to learn more about our global network of member firms. The Luxembourg member firm of Deloitte Touche Tohmatsu Limited Privacy Statement notice may be found at www.deloitte.com/lu/privacy.