Hybrid delivery models in banking transformations
The banking ecosystem needs to adapt rapidly to respond to the high market pressure caused by constantly evolving customers' needs and expectations and increased competition, as well as to ensure compliance with new regulations.
Michael Holzmann - Partner - Core System Transformation - Deloitte
Hervé Maillot - Director - Core System Transformation - Deloitte
Pierre Tailleur - Manager - Core System Transformation - Deloitte
Romain van Nieuwenhuyse - Senior Consultant - Core System Transformation - Deloitte
Published on 14 January 2020
In an increasingly evolving financial services industry (FSI) landscape, banks are facing many external challenges that seriously threaten their margins and market positions. Examples include new regulations like PSD2 (see also InsideNow issue #13 for more implications relevant for CIOs) or market mandatory initiatives like instant payments; new technologies that are setting new standards in terms of customer experience by providing holistic solutions, and personalized and integrated services that are asking banking players to provide the same level of service they get in the retail world; new competition from non-FSI players and FinTechs; changing customer needs, and customers that are becoming increasingly tech savvy.
However, many banks are struggling to effectively tackle those challenges due to both technological and organizational constraints. While the latter has been described in another InsideNow article, "Agility at Scale" published in November 2019, this article will focus on the technological burden.
Technological debt is predominantly caused by a bank's legacy ecosystems and solutions that have been built over time, sometimes decades. This very often results in a complex application landscape that lacks flexibility, is cumbersome to integrate, and hence leads to large maintenance and license costs.
In order to overcome this technological burden, banks need to transform their IT landscape. Delivering those transformation journeys are very risky and complex and are subject to two other singularities:
These challenges, together with better adaptation to market changes, often prove difficult when following the traditional delivery methods. It is therefore critical to design a sustainable delivery model that can respond to unexpected
and frequent changes and to co-existence challenges such as those with the legacy environment or with existing delivery models. Some of the key principles and objectives of such a model are illustrated in the table below.
To reach these objectives, banks must think about a model that combines the benefits from the traditional delivery method (waterfall) and those from the agile method (Scrum/Safe). A new hybrid delivery model, combining traditional and agile approaches, tailored to the particular organization where it is deployed, needs to be found and defined.
Hybrid delivery models: from traditional delivery method to better adaptation to market changes
For banks to respond quickly to market changes, the delivery model of the banking transformation program needs to induce agility and flexibility into the traditional waterfall delivery method. For this reason, a scalable hybrid agile framework is essential:
0. Pre-requisites. Ideally, the bank has already trained its workforce in "agile" methodologies and has already delivered some smaller projects in an agile way. If not, it might be tempting to combine training, preparation, and proofing of the hybrid agile approach together with the large-scale transformation program, but this will almost certainly lead to delays, inefficient delivery and ultimately, possible failure. Getting the organization ready for the transformation before ramping-up large delivery teams for the implementation is key to its success.
i. Discovery phase. This phase delivers the high-level design of the transformation program. One possible approach is structured around the following key activities:
Define a global planning (full scope) with pre-defined costs and resources estimations. Time and cost are fixed while the scope is variable (agile principle)
2. Breakdown of requirements into features
3. Identify dependencies with external components (external systems, projects conducted in parallel, regulations, other IT developments) to enable the coordination of the delivery releases and to provide an alignment between the project roadmap and the delivered solution
4. Prioritization of features, from highest value to lowest value
5. End-to-end planning of releases based on the defined prioritization and external dependencies (global planning)
6. Design of migration scope and strategy following a staged rollout approach in waves that is deemed feasible under co-existence challenges
7. Structuring features development into sprints taking into account all required developments for planned release (according to the global planning).
ii. Build phase. This phase covers the development and product testing of required components. This can follow an agile delivery approach for teams, which are ready for it (hint: offshore is not). This assumes that roles, artefacts, and events are properly understood and defined beforehand.
iii. End-to-End testing. The entire release needs to be tested from an end-to-end standpoint, all functionalities being tested in a production-like environment with the objective to demonstrate suitability of release for deployment in the production environment.
iv. Deployment. The tested features are deployed in the production environment.
Several factors determine the proportion of agility that can be built into the different components of the hybrid delivery project, as illustrated below.
Level of factors for which the hybrid methodology is appropriate
Conclusion
The constantly increasing pace of change and demands for the evolving banking environment in the digital age is putting banks under pressure to transform into more flexible and agile institutions to better serve customers, face new competition, and optimize their costs
Banking transformations should be carefully scoped, defined, and well prepared to answer the ongoing challenges and ensure readiness for the future
The objective of a hybrid delivery model is to ensure a successful migration from the legacy to the new core banking system, while not disrupting business as usual and being prepared for new challenges
Key success factors for a transformation program:
- Strong governance and sponsorship enabling agile development (agile organization: processes, framework, tools, team composition, decision power for accountable stakeholders)
- Program management (control tower): roadmap definition and maintenance (prioritization), identification and monitoring of dependencies, reporting, and measurement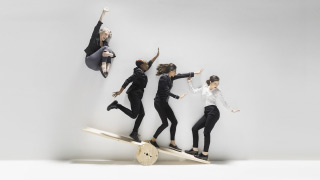 Agile at scale
While technology teams are often encouraged to "go agile", organizations are still reluctant to adopt the foundational changes that are required for a successful agile transformation.
© 2021. See Terms of Use for more information. Deloitte refers to one or more of Deloitte Touche Tohmatsu Limited, a UK private company limited by guarantee ("DTTL"), its network of member firms, and their related entities. DTTL and each of its member firms are legally separate and independent entities. DTTL (also referred to as "Deloitte Global") does not provide services to clients. Please see www.deloitte.com/about to learn more about our global network of member firms. The Luxembourg member firm of Deloitte Touche Tohmatsu Limited Privacy Statement notice may be found at www.deloitte.com/lu/privacy.