The hyper-capable smartphone never gets old - or does it?
Remember the exact day when smartphones changed our lives? Not really. That's because smartphones have evolved subtly and almost imperceptibly. They have changed over the years, from IBM's unwieldly Simon in 1994 to Apple's iPhone X weighing 174 grams in 2018.
Ronan Vander Elst - Partner - Deloitte Digital Leader - Deloitte
Andy Fossion - Senior Consultant - Deloitte Digital - Deloitte
Published on 5 February 2019
We have undergone an even more profound change ourselves. In fact, it is quite ironic to think that the first smartphone ever launched in the 1990s was not successful at all. It was seen as a work tool and the preserve of the tech-savvy elite in the financial sectors. Nowadays, its role in the workplace and increasingly its use as a tool to facilitate remote working are just two of the many features of these diabolic devices. To quote the Samsung S4 lock-screen, smartphones have become "life companions" for us. We have become accustomed to periodically checking our screens for notifications from social networks, and capturing the most special—and even the most mundane—moments of our lives with our phone cameras. Beyond these obvious features, what are the main activities consumers these days are using their phones for?
This, and 69 more questions were posed to 1,004 people living in Luxembourg for the 2018 edition of the Deloitte Global Mobile Survey. The Luxembourg dataset is part of Deloitte's multi-country study of mobile phone users around the world. The study comprises approximately 54,150 respondents across 35 countries and 6 continents. Touching upon a variety of themes, the results obtained shed light on the ever-increasing trend in the use of mobile devices.
Luxembourg is one of the European countries with the highest smartphone adoption level. Among the people surveyed in fact, as many as 94 percent possess one. Unsurprisingly, the adoption rate has increased in recent years at a rate of 3 percent on average, compensating for the sharp decline in the adoption of "regular mobile phones". With their increasing adoption rate, smartphones are at the center of the daily routine of the average person in Luxembourg, helping them with a great variety of activities.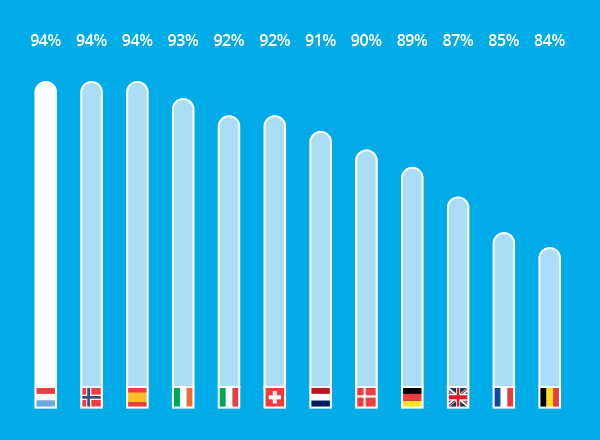 One of these activities is banking. Up until the beginning of the new millennium, if a client wanted to check their bank balances they had to call their trusted bank advisor and request for the end-of-period balance to be sent to their home, via post, or they had to collect it in a branch. Over the past 20 years, computers have slowly rendered lengthy phone calls obsolete, allowing people to check their accounts from the comfort of their own homes. Today, more people check their bank balances on a smartphone than on a laptop: 34 percent of the people surveyed check their balances periodically using only their phones. Unlike in the 1990s, no voice calls pass through their phone lines, only customized and colorful charts showing their expenditure over the prior month. Reflecting this trend, almost all banks in Luxembourg provide a mobile solution, whether via an app or a mobile-friendly website, to allow customers to view live updates on their accounts on a weekly, daily, and hourly basis.
Looking at charts and statistics on their spending habits is not all that consumers are doing with their smartphones, though. In 2018, 65 percent of consumers in Luxembourg have used their smartphones to purchase a product online and up to 18 percent have done so on a weekly basis. The popularity of mobile payments relies on their simplicity. For example, fingerprint-initiated payments and transactions require just a touch—eliminating the need for heavy wallets and stuffed card holders in one fell swoop. As of now, 42 percent of the people surveyed in Luxembourg use fingerprint recognition to authorize online money transfers and 55 percent to authorize payments. Our lives therefore seem to have become easier and easier, with traditional signatures and forget-me-not pin codes being overwhelmed by foolproof fingerprints.
All of this suggests that the market for mobile banking products and services is flourishing, with fledgling FinTechs like Meniga and BudgetInsight partnering with decades-old institutions to provide the best experience for end customers. But what do customers look for, as a key differentiating factor, when choosing their digital banking solution? The top three criteria for Luxembourgish customers are the security of the solution, the basic banking features provided, and the ease of use of the solution. Surprisingly, of the customers surveyed who use mobile banking platforms, the younger generations seem to be more concerned about security, with 75 percent of youngsters aged between 18 and 24 ranking security as the most important criterion, whereas only 63 percent of customers aged 65 or older felt the same. Could this mean that the younger generations are more aware of the risks of cyberattacks?
In addition to becoming "pocket accountants", smartphones are also increasingly turning into "portable doctors". Looking to the other side of the world, for example, the US Food and Drug Administration approved 36 connected health apps and devices in 2017, providing medical support to consumers. The power of these apps is phenomenal, ranging from the basic medical diagnosis provider Babylon to Philip's Lumify, which offers an overview of the health of consumers' organs through a portable ultrasound scanner connected to a smartphone. These trends suggest that in the near future most routine medical tests will be "smartphone mediated". This means that there will be much less need for lengthy visits to the General Practitioner's office or packed hospital emergency rooms, as people will just consult their smartphones.
Like small, ubiquitous, vital totems, smartphones have truly taken over consumers' lives from every perspective. But will the adoption curve plateau at some point? According to tech enthusiasts, the answer is yes. A few years from now, smartphones will not be uniquely essential tools anymore, because everything will be mobile and connected. One of the key drivers of this change is the increasing pace of connectivity: 5G will allow devices to absorb and process a vast amount of data in milliseconds, transferring it to remote locations. In this scenario, smartphones might not retain their absolute dominance in the world of connected devices and will instead be overwhelmed by the myriad of smaller, equally powerful, connected tools. Expected to be adopted in 2020, 5G will mark the end of entertainment as we know it, allowing seamless live streaming of videos, movies and even live broadcasting of virtual reality content. In transport and manufacturing, increased connectivity will allow for the implementation of autonomous and connected truck "platoons" that will require no human intervention.
Sources (external from Deloitte):
Conclusion
Despite the incredible impact 5G is likely to have on our lives, consumers do not yet seem to have fully grasped its importance. When asked whether they would immediately switch to a 5G data plan on their smartphone, less than one third of the people surveyed in Luxembourg replied that they would voluntarily do so. The rest said they would wait until they felt they had to switch so as not to be left behind. Thus, as of now, our smartphone-dominated society does not seem to care about the upcoming technologies that might wipe away our beloved life companions. But will this trend continue forever, is the smartphone ready to be forgotten and, most importantly, are consumers ready to replace it forever?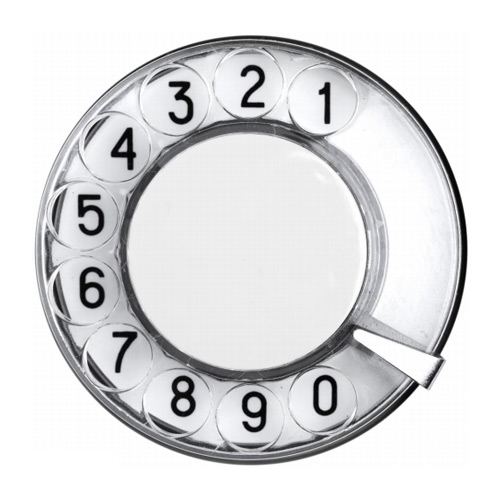 Global Mobile Consumer Survey 2018 - Luxembourg
Would you like to have more insights on trends relating to the use of mobile devices in Luxembourg?
© 2021. See Terms of Use for more information. Deloitte refers to one or more of Deloitte Touche Tohmatsu Limited, a UK private company limited by guarantee ("DTTL"), its network of member firms, and their related entities. DTTL and each of its member firms are legally separate and independent entities. DTTL (also referred to as "Deloitte Global") does not provide services to clients. Please see www.deloitte.com/about to learn more about our global network of member firms. The Luxembourg member firm of Deloitte Touche Tohmatsu Limited Privacy Statement notice may be found at www.deloitte.com/lu/privacy.