Smart Contracts - Innovation from Hype
As blockchain has reportedly made it past the Gartner hype cycle stage, focus can now shift from endless crypto-currencies to other solutions that will facilitate the implementation of sustainable business models and deliver a wide array of benefits.
Sandro Psaila - Senior Manager - Technology Audit & Assurance - Deloitte
Published on 2 April 2019
In August 2018, blockchain was reported to have made it past the peak of the Gartner hype cycle. The research organization Gartner classed blockchain technology as part of the digitalized ecosystem trend whereby companies are beginning to embrace more dynamic ecosystems [1]. This is not bad news for those who see blockchain as an emerging fundamental technology; now that the hype period is over, focus can shift from endless crypto-currencies to other solutions that will facilitate the implementation of sustainable business models and deliver a wide array of benefits.
The impressive volumes of capital raised by initial coin offerings (ICOs) in a relatively short time span demonstrate that people are willing to explore and embrace alternative technologies and financial vehicles. Smart contracts are at the heart of ICOs, which is why business and technology leaders should track their development and evolution.
Smart contract use cases
Blockchain, the technology that underpins smart contracts, was designed to "create trust" through inherent properties including immutability, the consensus algorithm, non-repudiation, and encryption. Once a smart contract has been set in motion to complete a transaction, the transaction will be completed exactly as coded in the smart contract and no parties can interfere or change the result once it has been executed. The properties of the underlying DLT (digital ledger technology) ensure that smart contracts can validate transactions, verify the legitimacy of counterparties, and perform routine account administration tasks almost instantly. These properties are leading to an ever-increasing number of use cases and companies are now using smart contracts to solve problems and automate processes in areas in which technology had not been used for this purpose previously.
The following are just some of the examples of how embedding smart contracts in the transaction flow has the potential to reduce costs, accelerate transactions, and increase efficiency.
Conditional payments (if-then triggered transactions)
Asset distribution (purchase, sales)
Attestation, registration, record-keeping, ledgers, accounting
Employment arrangements—certifications—credentials—academics
Copyright protection—reduced fraud in human-fractioned industries [A1]

Insurance, claims, mortgages, wills, trusts
Real-estate, fractional property ownership, registration
Healthcare services, record-keeping, and transferal
Crowd sales, crowd lending, fintech
Voting, elections
Insurance smart contracts
An interesting use case in the insurance arena is a policy to cover and compensate for the problems caused by flight delays. In September 2017, AXA, the insurance giant and the world's second-biggest financial company, launched an insurance product that utilizes smart contracts on the Ethereum public blockchain [2]. This smart contract checks the published flight arrival times and the insured party is reimbursed automatically if their flight is delayed in accordance with their policy terms. This AXA smart contract is a typical example of a conditional payment contract, in which whenever a specific condition becomes true (flight is delayed) then an action is triggered (the policyholder receives a payout).
Loan securitization smart contracts
Loan securitization is another area in which smart contracts are likely to prove particularly useful because the underlying DLT platform can be used to build additional layers of security instruments such as property titles and mortgage-backed securities. As regards securitization, in addition to typical smart contract advantages such as speed, ease of information sharing, transaction verification, automated workflow, and automated payments, artificial intelligence (AI) techniques such as "fuzzy logic" are also being used to analyze the demands of investors and borrowers in order to adjust interest rates and to categorize loans based on collateral and income levels. Other AI techniques linked to machine learning can also be used to construct new assets that can be issued as securities on the financial markets [3].
In the not-too-distant future, we will be able to buy houses through smart contract-enabled securitized loans coupled with legal paperless deeds. At the point of purchase, the property may already be connected to automated utilities (such as on-demand smart contracts to buy water, electricity, and gas), solar panel smart contracts that automatically sell excess electricity at the desired rate, automated cleaning robots that are activated at the most convenient time of the day, automated insurance policies against burglaries, and many more automated smart contract services. In this environment, the only thing a client would need is a secure digital wallet that could be referenced by the relevant smart contract to close off the transaction loop and send or receive the crypto-assets (tokens, bitcoin, Ethereum, etc.) specified in the smart contract. Nonetheless, although we are already seeing tangible progress towards the realization of the "smart home", smart contracts will need to continue to evolve both from technical and legal standpoints.
From a technical standpoint, smart contracts require a widely accepted industry standard interface to facilitate communication between smart contracts and objects in the transaction workflow. In computing terms, this is known as an application programming interface (API): an interface that enables interoperability. To understand interoperability issues, think about your mobile phone charger. If the battery dies on your Samsung phone, you will not be able to charge it using your friend's iPhone charger because the charging ports are different. Even two different models produced by the same manufacturer can sometimes have different charging ports. Similarly, smart contracts do not share a common interface that facilitates communication between the various objects. As the internet of things (IOT) enters the mainstream, the need for a common interface will become more pressing and any object that has a unique digital identifier will be a candidate for incorporation into a smart contract.
Smart contract logic is another area in which we expect further evolution to occur. In the coming months, we expect to see more conditional statements being replaced by complex AI-based algorithms. Smart contracts should not come into play where proven technical solutions are already ensuring smooth processes. Instead, the priority areas for development should be those in which technology has not yet been used to optimize processes and those in which technology has caused difficulties and high-friction losses [4].
From a legal perspective, there is still a degree of uncertainty as to how we can enable legal contracts on blockchain platforms. Ricardian contracts are regularly hailed as "the answer" to this dilemma. The Ricardian contract, invented by Ian Grigg in 1996, is a method of recording a document as a contract at law, and linking it securely to other systems, such as the accounting system, for the contract as an issuance of value. Ricardian contracts are robust because they use identification by cryptographic hash function, transparent because they use readable text for legal prose, and efficient because they use mark-up language to extract essential information [5]. In simple terms, Ricardian contracts are the best means we have to record an agreement and smart contracts are the best way to execute the agreement. The process of blending these concepts is already underway and it was recently announced that the EOS blockchain infrastructure would start supporting Ricardian contracts [6]. This development immediately makes EOS smart contracts among the most advanced in the DLT space and an important step towards live smart contracts that are much more versatile and capable of solving key issues, especially those related to legal definitions.
Conclusion
Regardless of how the overall landscape may change in the next five to ten years, there is immediate and quantifiable business value to be captured across all industries. Smart contracts are already an important tool in the ongoing digital transformation, and they are likely to play a critical role in shaping the future landscape as they continue to evolve. According to Gartner, by 2022, over 25 percent of global organizations will be using smart contracts [7].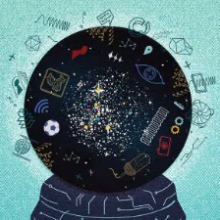 Global TMT Predictions 2019
See what the future holds for technology, media and telecommunications
© 2021. See Terms of Use for more information.
Deloitte refers to one or more of Deloitte Touche Tohmatsu Limited, a UK private company limited by guarantee ("DTTL"), its network of member firms, and their related entities. DTTL and each of its member firms are legally separate and independent entities. DTTL (also referred to as "Deloitte Global") does not provide services to clients. Please see www.deloitte.com/about to learn more about our global network of member firms.
The Luxembourg member firm of Deloitte Touche Tohmatsu Limited Privacy Statement notice may be found at www.deloitte.com/lu/privacy.